The world meets in Milan during Salone. Do not miss emerging and confirmed talents from the Middle East. Here is a not exhaustive list by alphabetical order.
ANARCHITECT has been invited to participate in Wallpaper* magazine's tenth-anniversary Wallpaper* Handmade X exhibition at Milan Design Week 2019. In this this year's 'LOVE' themed exhibition, Wallpaper* brings together the brightest and best designers, artists and architects with the finest craftsmen, makers and manufacturers.
"Love Handles" by ANARCHITECT and OTZI are a poetic triptych of designs, which are a nostalgic symbol of our most precious commodity - privacy. The designs evoke intimacy, love and excitement and the moments we hold most precious hidden behind closed doors. Tactile materials and ergonomic refined forms reciprocate to the human touch, creating a bond and resonating hidden sensuality.
Location: Salone dei Tessuti, via San Gregorio 29. Open on April 9th from 12pm to 4pm and from April 10th to 13th from 10am until 6pm.
Needless to introduce this successful duo who truly is at home in Milan. Busy year again for david/nicolas with four projects:
Anthology: "De Cotiis x Carpenters Workshop Gallery" featuring Constellation C030. Location: Vincenzo de Cotiis Gallery, 14, via Carolo de Cristoforis

CC-Tapis: "Plasterworks", new rug collection. Locations: Piazza Santo Stefano, 10 & Rho Fiera, Hall 24, Stand B10.

Gallotti e Radice: "Prism", new table collection for G&R. Location: Rho Fiera, Hall7, Stand L12.

Life In Vogue: "The Interior's Cut", a crossover reflection around fashion and design. Location: Redazione Vogue Italia, Piazzale Cardone, 5.
'Hey Banksy', a limited edition light is a tribute to Banksy who took his craft to a new level with his subversive and often satirical stenciled graffiti, holding a unique penchant for seizing the opportunity as an artist to connect to and relate with his constituents. The fixture is a literal depiction of a spray can, Banksy's primary vehicle for creation. The spray is represented as a glass cone with color sprayed in a gradation that fades out towards the rim creating a boundless effect.
Fadi Sarriedine will be releasing a capsule collection. Out of these, eight pieces will feature the aluminum base, while six limited edition versions will feature a marble base. Also unique to the limited rendition is a calligraphy inscription by Visual Artist Naji Al Mir on the interior of the cone. The inscription will feature text from an Arabic Poem, artistically contrived to aid in both function and aesthetic.
Location: 'Room E' at Palazzo Cusani, via Brera 15, from April 8th until 14th (11am - 9pm). On April 10th, the palazzo will be closed after 4pm for a private event.
The Fish and the Crowd is the first solo exhibition by Carlo Massoud in Italy, and brings together a number of objects produced since he started his studio in 2013, combined with a new production created for the occasion.

For Salone, Carlo has reimagined the space of the Oratorio della Passione through a new collaboration with his sister Mary-Lynn. In the church, a number of objects play the role of an imaginary crowd, seated on benches. The crowd looks forward to the apse, where the designer has placed a new contemporary altarpiece. For The Fish and the Crowd Carlo and Mary-Lynn Massoud quote the classical icons of Christianity and its liturgies (the religion they also belong to) to involve the viewers in an intense and ironical reflection suspended between the physicality of the objects and the spiritual tension of the context.

Location: Oratorio della Passione, Piazza Sant'Ambrogio.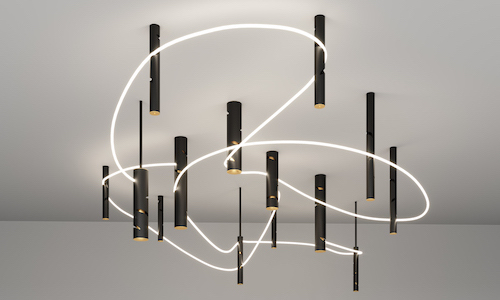 'Interweave' for Artemide by Pallavi Dean, is a flexible system that integrates light and services, leaving everyone the freedom to design their own environmental quality.
Suspended cylinders fixed to the ceiling or to the wall, guide a flexible LED light line, allowing to freely model it following soft and unexpected geometries. The light connects the different elements of the system. "It is a light that celebrates connections, the intersection of countries, cultures and creativity as a unique source of energy." Pallavi Dean, co-founder of Roar.
The cylindrical bodies can have two sizes, they can have the sole function of supporting the line of light or become the base for spotlights, intelligences and devices such as speakers and sensors. The multiplicity of cuts leaves free to define different positions to shape the diffusing light element. Scenographic in designing its shape through the light, it develops functional and comfortable lighting.
Interaction is central to the project. This light solution is a kit of pieces that can be assembled and manipulated according to individual needs.
Interweave generates not only a bright but also a sound experience, thanks to the speakers integration. 
The interaction is controlled by the intuitive Artemide App, also through the Alexa voice control. It also has motion sensors that make Interweave react to the presence in a programmed way .

Read more here
Locations: Artemide at Rho Fiera, Euroluce, Hall 13, Booth C09-D18 & Showroom, Corso Monforte, 19.
'Black and Gold Vol.2' represents a modern interpretation of iconic 20th century luxury. It defines more than a mere colour palette; rather it is the embodiment of many components that create a vision and a direction It builds on inspirations of contrast, balance, geometry, and luxury, with an underlying Art Deco spirit. The pieces make a bold statement and blur the lines between sculpture and functional furniture, by adding a layer of complexity to otherwise conventional everyday items
"Studio A" by Ahmad Bazazo is a multidisciplinary design practice based in Beirut, Lebanon. The Studio does not confine itself to a given stylistic approach, but rather is driven by an aim and principal of producing bespoke, made-to-measure objects that bring light and focus into the spaces that they encompass. Pictures by Mansour Deeb
Location: Ventura Future 2019, BASE Milano, Via Bergognone 34, Milan.
"Lost in Transition" is an urban object-space comprised of two chairs connected with an arch, which enforces a physical face-to-face interaction while the periphery stools focuses on a solitary moment for writing, reading or enjoying the surrounding. Blurring the boundaries between objects and spaces, the structure adapts to the ephemerality of spaces today and enables numerous spatial configurations in various environments.
For the occasion of Milan Design Week 2019, sister architects Tessa & Tara Sakhi, will be exhibiting an installation with a configuration of 5 urban chairs, in the main outdoor courtyard of Alcova, creating a versatile and interactive space where the public can mingle, rest and eat.
Location: Alcova, via Popoli uniti, 13, April 9th until 13th, from 11am until 7pm.
Meaning 'three' in Arabic, TALATA is the brainchild of three designers hailing from Egypt. Mona Ramzy, Mehry El Masry and Farah Zoghbi incorporate their heritage into their designs, along with a virtuosic eye for color and bold patterns.
"Egypt has always been a melting pot of cultures. The footprints can be seen all over the design styles that passed through the country. We are proud of our heritage and passionate about our history and that is why all our products are handmade in Egypt where the oldest techniques and craftsmanship are unparalleled," said Mehry El Masry, interior designer and co-founder in the trio.
TALATA unveils four distinctive lines: Raa', Ebly, Bahary and The Chameleon – the contemporary collections are each inspired by various Egyptian historical, geographical and cultural elements with every item artfully handmade in Egypt with unparalleled craftsmanship.
A key element within TALATA's stunning portfolio is their diverse and colorful selection of handmade fabrics. Using ancient textile techniques from the 1800's and using 100% Egyptian cotton and natural dyes, each print is carefully designed by TALATA to portray elements of Egyptian history and culture. Designed in a variation of different colors and prints, TALATA's eclectic fabric collection will add energy and style to any interior.
Location: Meet My Project, NEXT Agency, via Varese 18. April 9th until 13th.